Join Us
Explore the Infinite Possibility of Light Ahead of Light We Go
Company Profile
Yenrichg Technology Corp is a leading manufacturer of micro-assembly (µ-Assembly) solutions, providing flexible customized R&D and design services from die, packaging to modules according to customer needs.
Main Goods/Service Items
R&D, design and production of new LED packages and Mini LED modules.
Yenrich Technology Corp. is a leading brand of LED in the world, specializing in the research and development of LED miniaturization and ultra-fine pitch display screen related technologies. Reference on the process of semiconductor, Yenrich developes its own technology to complete whole process from mass transfer on LED chips, bonding, inspection and repairing. With the smallest pitch and smallest RGB Led package in the world, Yenrich is aiming to create the new application for RGB small pitch dispaly industry.
Salary and Benefits
Salary / Bonus
Market-competitive monthly salary.
Three-section bonus, year-end performance bonus
Annual salary adjustment according to each employees peformance.
Employee Insurance
Labor insurance, health insurance.
Free employee group insurance, including life insurance, accident insurance, hospitalization medical insurance, and cancer medical insurance.
Leave System
Full paid annual leave.
Sick leave, maternity leave
Paternity leave and family care leave.
Menstrual leave for female colleagues.
Supervisory leave for supervisory position.
Welfare Subsidy
Wedding gold, maternity allowance, funeral condolences, hospitalization condolences.
Birthday gift money, three festival gift money.
Special store discounts.
The Welfare Committee organizes employee activities from time to time; there are also various club activities
Conveniences
Staff restaurants, convenience stores, cozy small shops and coffee bars
Leisure facilities
Parking lot for employees.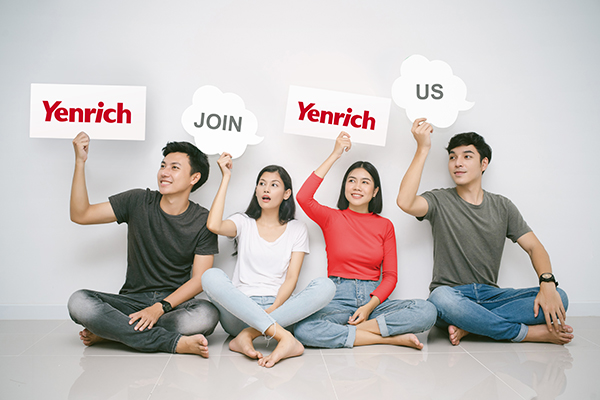 Caring
The professional occupational medical services from health center
Considerate Mommy Nursing Room
Visually Impaired Massage Service
Suggestion Box
General manager mailbox
Employee Opinion Mailbox
Sexual Harassment Complaint Mailbox
Lounge Mailbox
For any employment questions, please feel free to contact us.
Contact Us 03-563-8319